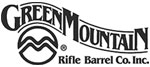 Adams & Bennett Barrel Blanks are made from premium quality 4140 Chrome Moly Steel then precision-reamed, button rifled, stress relieved and air gauged to + or - .0002". Furnished "in the white" these blanks will require threading to the action of your choice, crowning, chambering and finishing by a qualified gunsmith. The proper break-in procedure requires cleaning after each shot for the first five shots. Then cleaning after every five shots for the next 50 shots.

Technical Information:


Bore Diameter: .219"
Groove Diameter: .224"
Land Width: .084"
Number of Lands/Grooves: 6
Made In {{countryOfOrigin}}