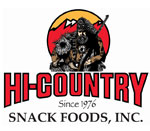 Hi-Country Wild Game Jerky Seasonings are a unique blend of premium grade spices, salt and sugars and are specially formulated for stronger wild game meats. Their jerky formulations emphasize slightly higher levels of sugars, or humectants, to help retain moisture longer; which makes for softer, more pliable chewing jerky.

Each 14.23 oz. box contains all the seasoning and cure necessary to season up to 16 lbs. of meat (Teriyaki and Bar-B-Que season up to 12 lbs. of meat), including wild game, pork, beef, poultry, waterfowl and game bird. Hi-Country's jerky spices are a dry cure. Any added moisture will evaporate and lengthen the drying process.

The separate cure packet allows the option to omit the cure without compromising the quality of the finished product. The cure packets contain sodium nitrite and salt. When mixed with meat it prevents most forms of spoilage for a limited amount of time. Sodium Nitrite is a color affixer used to obtain a uniform reddish-pink color in the meat. The cure packet must not be consumed by itself and should be kept out of the reach of children. Dispose of unused cure by rinsing contents down the drain.

The step-by-step processing instructions, with full color pictures, show how to make whole muscle and ground & formed jerky, along with cook and dry instructions for home smoker, oven and dehydrators. Instructions also offer a special Tips & Tricks section, along with safe food handling information. Also included are conversion charts for making smaller sized batches.

Unopened seasonings will stay fresh 3 to 5 years. Once opened, they will stay fresh 1 to 2 years. We recommend storing your opened spice in an airtight container and keep in a cool, dry place.
Made In {{countryOfOrigin}}