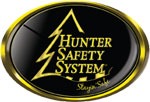 Features
Individual, padded hexagons provide comfort and maximum flexibility in the stand
Trim design gives a snug fit without compromising movement
1.25" upper-body webbing, shock absorbing tether and waist buckle reduces weight and bulk
Patented HSS design eliminates dangerous dangling straps and weave-through buckles
Includes a secure, mesh cell phone pocket
The HSS-Ultra-Lite Flex is the lightest, most flexible harness to hit the market. The HSS-Ultra-Lite Flex features a series of individual, padded hexagons that provide a comfortable, snug fit and unprecedented flexibility. HSS 1.25" upper-body webbing, tether and waist buckle continues to provide the strength you expect from HSS without the added weight and bulk.
Included in package:
HSS UltraLite Flex
Lineman's Climbing Strap
Adjustable Tree Strap
Suspension Relief/Deer Drag
Instructional DVD
Safe-Use Instructions
Technical Information
Weight Rating:
Small/Medium: 100 to 175 lb
Large/XL: 175 to 250 lb
2XL/3XL: 250-300 lb
Fits Torso:
Small/Medium: 28" to 42"
Large/XL: 35" to 56"
2XL/3XL: 48" to 60"
Weight: 2.0 lb