Product Overview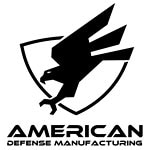 This mount from American Defense is machined from aircraft quality 6061 T6 aluminum. It is designed to allow easy installation and removal without loss of zero with its Quick Detach Auto Lock levers. Rings are integral.

Operation Instructions:
Make sure your firearm is unloaded and the muzzle is pointed in a safe direction
Familiarize yourself with the mount and it's parts
Unlock the mount. To do this, depress the lock button and move the lever 180 degrees to the unlocked position
Install assembly onto rail and move lever to the locked position
Check tension to close. Correct tension is the maximum amount of tension you can apply with your hand to move the lever to the closed position. A little judgment and personal preference is needed here.
To set the tension for the lever, turn the adjustment screw one click at a time until the proper feel is reached. To tighten, turn the screw clockwise. To loosen the tension, turn it counterclockwise. This may take a few tries to get it exactly where you want it.
Torque Ring Screws to 20-25 in/lbs.
Made In

United States of America
Was this information helpful?