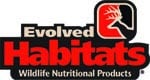 Deer Cane Black Magic immediately attracts deer to your site... during every season of the year due to its powerful mineral and flavor attractants. Put out "Black Magic"... keep it active and immediately start patterning deer to your supplement sites. You'll quickly discover the magic of the Deer Cane "Black Magic" formula that drives deer crazy to consume minerals from your sites. BLACK MAGIC is enriched with Calcium, Phosphorus and Sodium to increase the overall health of your deer herd.
Note:
Black Magic Liquid = 1 Gallon
Black Magic Block = 4 lb
Black Magic Powder = 4.5 lb
How to use:
Once you have selected your site, remove all vegetation from the chosen site area approximately 4 feet in diameter. Once the ground is cleared, rake the soil to loosen and make a slight depression in the site so that it will hold some rainfall, making runoff less likely. Spread the contents of the bottle or bag over the site area or place the block in the center of the cleared area. Do not cover the Deer Cane "Black Magic" minerals and attractants.
Made In {{countryOfOrigin}}