Product Overview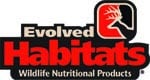 The Buck Lickers Deer Supplement is an irresistibly flavored mineral block that have an extra punch of calcium and phosphorus to provide beneficial mineral nutrients, saturated with the taste that deer, elk and moose crave. Place this block out in their natural habitat and they'll lick it up until it is gone.
How to use:
Place one or two blocks in an established mineral site to provide months of attraction without having to return to the site. To establish a new site, place one or two blocks in the middle of a bare spot, 4 feet in diameter. Rainfall will be needed to activate the site, allowing the minerals to fully leach into the ground.
Made In
Was this information helpful?