Product Overview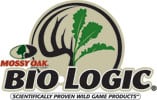 Inspired by the proven success of our late season brassica bulbs, Winter Bulbs & Sugar Beets is a great diverse food plot offering. The sugar beets are browsed early and the brassica bulbs powered by the "green" top bulb (the highest preferred bulb we've tested) making this a plot attractive early, but a strong late season food source. For years many people have been amazed as they watched deer dig up the BioLogic bulbs late season. Not all brassicas make bulbs. This blend guarantees plenty of bulbs plus it has the added attraction of sugar beets. 2.25 lb bag will seed 1/4 acre.
Seed Content: brassica winter bulbs, sugar beets
Canadian Planting Zone: July, late
North Planting Zone:August, late
Transitional Planting Zone: August, late
South Planting Zone: September
Seeding Rate: 9 lbs per acre
Planting Depth: 1/2 Inch or less
Fertilizer Recommendations: 13-13-13 fertilizer @ 350-400 lbs/acre
Made In
Was this information helpful?