Product Overview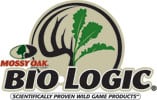 BioLogic New Zealand Maximum is a blend of New Zealand brassicas that mature at different ages so there will be forage available throughout the life of the plot. After the first frost, sugars flow from the roots of the plant to the leaves, making them even more palatable for whitetails. This blend of brassicas promotes rapid weight gain, optimum health and antler growth.
Seed Content:Brassica varieties
Canadian Planting Zone: N/A
North Planting Zone:Spring, late
Transitional Planting Zone: Spring, Late
South Planting Zone: Late Fall
Seeding Rate: 9 lbs per acre
Planting Depth: 1/4 Inch or less
Fertilizer Recommendations: 13-13-13 fertilizer @ 400 lbs/acre
Made In
Was this information helpful?