Product Overview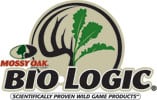 BioLogic Green Patch Food Plot Seed combines the attractiveness of transitional grains with the nutrition of New Zealand brassicas and clovers. This blend establishes itself quickly and provides an irresistible food plot through the end of hunting season.
Seed Content: Brassicas, clovers, wheat, oats
Canadian Planting Zone: N/A
North Planting Zone:Late Summer
Transitional Planting Zone: Late Summer. Fall
South Planting Zone: Fall
Seeding Rate: 40 lbs per acre
Planting Depth: 1/4 inch
Fertilizer Recommendations: 13-13-13 fertilizer @ 350-400 lbs/acre
Made In
Was this information helpful?