Product Overview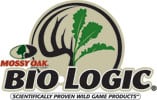 BioLogic Chicory Food Plot Seed is great as an additive to any food plot. Chicory is known for increasing antler growth and offers high protein levels. If seeded heavily, chicory will regrow for 3 to 5 years.
Technical Information:
Seed Content: Chicory
Canadian Planting Zone: N/A
North Planting Zone: Spring
Transitional Planting Zone: Spring, Late
South Planting Zone: Fall
Seeding Rate: 8 lbs per acre
Planting Depth: 1/4 inch or less
Fertilizer Recommendations: 10-10-10 fertilizer @ 400 lbs/acre
Made In
Was this information helpful?