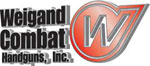 These lightweight, aluminum rings are designed for use with Weaver-Style mounts that measure over .850" across and are sure to make your firearm more attractive while offering the most secure performance available. The Magnum 2-Ring Sets are designed to handle the recoil of smaller caliber magnums (357 and 44), while the Magnum 3-Ring sets are designed for the largest handgun calibers (454 Casull and up).
CHOOSING RINGS: Ring height is determined by measuring the outside objective (bell) diameter on your scope.

Technical Information

Material: Aluminum

Style: Weaver (cross-slot)

Ring Diameter: 1"

Ring Height: .225" (measured from base of ring to bottom of scope tube)

Notes:

Locking system used on these rings was designed for use with Weaver-Style mounts measuring over .850" across the points.

Rings are .500" wide versus the .375" of the standard "Non-Magnum" Weigand rings.

Weigand recommends using 3 rings if you are mounting a scope to any firearm that is of a magnum caliber.

Made In {{countryOfOrigin}}