Product Overview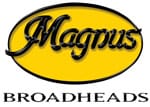 The large Magnus Bullhead Broadheads will not fit into a standard quiver, so Magnus designed the Bullhead Quiver Adaptor. The Quiver Adaptor will fit into most stand quivers allowing them to hold arrows with the Bullhead Broadhead. Made of durable plastic, the adaptors are made to snugly fit the broadheads with dulling the blades or being torn up by the blades. If you want to shoot the Bullhead, these adaptors are a must for arrow transportation and storage.
Made In

United States of America
Was this information helpful?