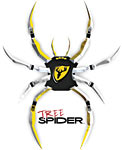 Features
Features 1 lightweight aluminum Powerlink carabineer for attachment
Self contained 7" x 5" x 1.5" pouch
One time use design needs no servicing
The Tree Spider Livewire System has solved the problem of an unexpected fall from your stand. This descent system will safely and slowly lower you to the ground and get you back to your friends and family safely. This is the first system that provides instant, hands-free descent getting you back on the ground quickly and safely. Lightweight and simple, this system is a must have for any treestand hunter. Expect the best but be prepared for the worst with the Tree Spider Livewire.

Simply select the appropriate model for your weight including gear and your bow and you are ready to go. Attach the livewire to the strap on the tree, attach the Livewire carabineer to the soft loop on the strap, and attach your harness carabineer to the Livewire soft loop.

Note: For the product to function correctly, the user must select the correct weight rating 115-200 lbs or 200-300 lbs.
Made In {{countryOfOrigin}}