Product Overview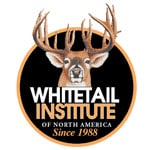 Features
Includes WINA perennial forage chicory for maximum attraction, high protein levels, longevity, and variety
Provides up to 44% antler-building protein
EXTREMELY cold tolerant, and resistant to drought, heat and disease
Coated with Rainbond for enhanced seedling survivability
Lasts up to 5 years from a single planting
EXTREMELY ATTRACTIVE TO DEER
Imperial Whitetail Fusion combines the #1 food-plot product in the world, Imperial Whitetail Clover, with the outstanding performance of WINA perennial forage chicory for even greater tonnage, higher protein, and enhanced performance during heat and droughty conditions. Includes the newest proprietary clovers scientifically designed by the Whitetail Institute specifically for food plots for deer. Fusion is an excellent perennial for areas with moderately drained soils to heavy soils that hold moisture.
Seed Content: Clover Variety, Chicory
Planting Time Recommendation: Early Spring, Fall, or Frost Seed
Seeding Rate: 3.15 lbs per .5 acres
Planting Depth: 1/8 inch or less
Fertilizer Recommendations: 6-24-24 fertilizer @ 400 lbs/acre
Made In
Was this information helpful?