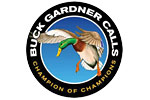 Features
Double O-ring for perfect air seal and call security
Easy to operate and even blows when wet
Cannot be over blown
This is the perfect complement to the single-reed Buck Brush, Buck's favorite hunting call.

The Buck Brush Double features all acrylic, double reed construction and has double O-rings for perfect air seal and call security. It is so easy to operate, and even blows when wet. And it Can't be over-blown

The Pure Duck Sound is super ducky on low end, quiet and soft, and the Feed-Call is free and easy.