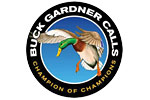 Slampiece spits enough smack with enough swag to make any drake commit to getting slammed.
If you want to shut down the migration by having ear rattling volume and all the finesse, whiny quacks, clucks and squeals to make every drake finish so you can have bang up days, you better have a Slampiece!
Buck Gardner is putting custom back into custom duck calls. They are sanding and making these call like they used to be made, one at a time. It has as loud a punch as any call out there and no comparison on the bottom end. One call to do it all.
Made In {{countryOfOrigin}}