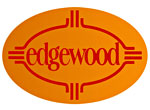 F-Class, or "Belly Benchrest" is quickly gaining popularity in long range rifle competition. Edgewood has designed the ultimate rear bag for the F-Class shooter, the Minigater with Grab Handle. The stiff handle makes the bag a lot easier to carry to the firing line, and the larger footprint of the bag base makes the bag more stable for shooting off the ground. These bags are also great for varmint hunters who move to new firing points frequently. The bag-portion of the bag is the same size as the Minigater, but the base extendeds to form a carry handle.Stitch Width refers to how far apart the "ears" of the bag are stitched to the bag body. 100% Made in the U.S.A., these bags are beautifully crafted in Edgewood, New Mexico.
Footprint: approximately 6-1/2" x 10"
Body Height: Standard = 3-1/4" Tall = 4"
Ear Height: Regular = 2" Short = 1-1/2"
Stitch Width: Regular = 3/8" Wide (or Shehane) = 3/4"
Filled Weight: Between 13 and 16 lbs
To fit a stock that is narrower or wider, use more or less sand to achieve a tighter - or looser - fit.
NOTE: If you find, after filling your bag or after the sand has settled, that your bag bulges on the bottom or rocks when on the bench try the following: Bang the bag flat down on the bench then gently slide it into place. Slapping the bag firmly onto the bench shifts the sand back up into the body of the bag and flattens the base of the bag. By pushing - rather than lifting - the bag into place, the bag will maintain that flat base.
Made In {{countryOfOrigin}}