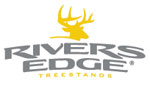 Features
Double-Step Design
Tractionite Permanent Non-Slip Coating
Nesting Design-easy transport
All welded construction
Silent attachment
The Rivers Edge Grip Stick offers security, versatility and portability with the preferred double-step design. Climb confidently with two steps at every level and Tractionite Permanent Non-Slip Coating on the top of each step that won't rub off or wear out. Be mobile and be fast with the versatility of this great independent climbing stick that nests together for excellent portability. Being quiet is also very important and the silent RamHorn attachment system removes metal-on-on metal contact. There is no assembly required with the all-welded, squeak-free, construction of the Grip Stick, which is soon to be a staple of all hang-on hunters.
Technical Information
Material: Steel
Height: 32"
Weight: 4 lb (each)
Capacity: 300 lb
Step Width: 11"
Step Distance: 15"
Tree Diameter: 8"-20"
Tree Attachment: 1 cam strap (per section)