Product Overview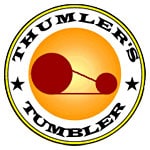 The Thumler's Tumbler Ultra-Vibe Case Tumbler Bowl is created from heavy duty polyethylene, for years or reliable use. Replaces the bowl on your Ultra-Vibe case tumbler.

Bowl Capacity:
Ultra-Vibe 10: Appr. 400-9mm Cases, 10lb
Ultra-Vibe 18: Appr. 700-9mm Cases, 18lb
Ultra-Vibe 45: Appr. 1000 30-06 Cases, 57lb
Made In
Was this information helpful?