Product Overview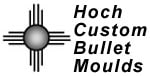 Hoch Custom Bullet molds are among some of the finest mold blocks made today. It is a well-known fact that the base of the bullet is more important than the nose for accuracy. Hoch Nose Pour Bullet Molds were invented for this very reason; they allow bullet casters to cast bullets with a perfectly flat base, with the sprue on the nose of the bullet. Handles are sold separately.

Notes:
Allows casting a flat-base bullet
Sprue is at the bullet nose
Handles not included, must be purchased separately, product number 193-586

General instructions from the manufacturer:
Please do not tighten the sprue plate pivot screw. Hoch's rigid sprue plate assembly is designed to give a uniform, clean sprue cut without leaving a huge sprue.
Bullet molds require adequate lubrication: hinges may be lubricated with a small amount of paraffin wax and release agent should also be used.
Loosen the hinge screw if the assembly begins to bind or resist - don't tighten the hinge screw to restrict free movement of the sprue plate assembly - the sprue plate assembly must swing freely.
Molds are packed with a list of tips and instructions for best use.
Made In
Was this information helpful?