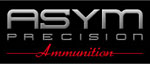 Since 2001, Stan Chen has crafted some of the finest custom 1911 pistols in the world. He has built a solid reputation in the industry of innovation, skillful craftsmanship, and meticulous attention to detail. In 2010, Stan Chen took that attention to detail and drive for excellence into the manufacture of precision, match grade ammunition for tactical, defensive and competition purposes. Knowledge of precision weapon dynamics as a custom gun builder gives ASYM Precision unique insight into the specs and requirements of ammunition in high performance weapon platforms.
Using the finest components in the industry, ASYM Precision Ammunition was developed for shooters, by shooters. During quality control, each piece of loaded ammunition is hand inspected and chamber checked to ensure you're getting high quality rounds in each and every box. Competitive shooters, military and law enforcement personnel as well as hunters, can trust ASYM to perform consistently and accurately in every shooting situation.

From Stan Chen: The ASYM Solid Defense X (SDX) line of ammunition offers a no-nonsense round with solid copper, solid penetration and solid expansion. The nickel plated, made in the USA brass case offers protection against corrosion. Between the brass and bullet is a premium low flash propellant that delivers consistency and great performance. Finally, the SDX line is loaded with the TAC-XP bullet from Barnes. Designed primarily for law enforcement and personal defense, the TAC-XP bullets have been tested in a variety of situations including shooting through barriers like wood, glass and metal, each time maintaining their original weight. TAC-XP bullets are 100% copper, making them safe for the environment.


Smith & Wesson Team Captain Julie Golob on ASYM Precision Ammunition:
"Stan Chen is a renowned gunsmith. He is absolutely meticulous when he builds guns, both inside and out. His attention to detail results in firearms that are both works of art and are 100% functional. With ASYM Stan translates that expertise to a line of ammunition that meets his impeccable standards. I first started using ASYM Ammunition in 2010 and have won seven world and national Titles with it. I have also taken it in the field hunting. It's reliable, incredibly accurate and provides the shooter the opportunity to make the best shots they are capable of."
Made In {{countryOfOrigin}}