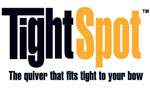 Features
3-way adjustment
Fits tight to the bow to reduce torque
Individually adjustable arrow grippers hold all sizes of arrows
QuadFit spacer lets you slide the quiver against the cable guard for another contact point
Bumper strip on the crossbar kills arrow vibration
Quick Draw rear facing arrow slot provides easy arrow access
One-hand quiver removal
Foam-free insert will not dull or deploy broadheads
Lipped quiver insert covers the edge of the hood
TailFan design positions arrows so fletchings won't vibrate together
Virtually unbreakable hood
Iron Clad Lifetime Warranty
Made in the U.S.A.
The Tight Spot will change the way that you thing about quiver design because it is designed to make you more accurate while shooting with your quiver on your bow. Made from the finest materials, this quiver is extremely solid and vibration free. The 3-way adjustment on this quiver allows you to adjust in all directions to fine tune the balance of your bow. Now your quiver will act like a stabilizer, making you more consistent instead of adding accuracy robbing torque to the system. Tight Spot quivers also feature a 4-way integrated vibration absorption system which attacks vibration from every conceivable angle, making your bow vibrate less with your quiver on than it does with it off. Quit spending money on quivers, only to take them off when you get to the stand. Get the quiver that makes you more accurate and your bow quieter. Get a Tight Spot!

Technical Information
Number of Arrows: 5
Stem Material: Super wrapped carbon rods
Hood Material: Polymer w/ foam insert
Detachable: Yes
Vertical Adjustment: Yes
Tilt Adjustment: Yes
Hanger Hook: No
Number of Arrow Grippers: 1
Length: 19.75"
Weight: 10.5 oz
Made In {{countryOfOrigin}}