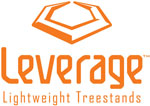 The packable climbing sticks from Leverage feature a unique V-shaped design which provides superior traction to traditional straight climbing sticks. They feature steps on both sides for easy climbing allowing you to climb the way you like without being restricted by a step. This also allows you to exit the stand on both feat for a much easier and safer entry and exit from your platform. The independent sections allow you to attach these sticks to trees where a straight stick would not work, and they are stackable for easy transport. The Short Stack Sticks are only 17" tall, allowing you much more versatility when setting your sticks. The shorter sticks allow you to climb trees with limbs or rotate more freely around the trunk.
Features:
V-shaped design for superior traction
Dual steps for ambidexterity
Independent suspension allows you to climb virtually any tree
Stackable for easy transport
Technical Information: Leverage Climbing Sticks
Number of sections: 4
Weight: 2.5 lbs. per section
Material: Aluminum
Height Per Section: 17-1/2"
Weight Limit: 275 lbs.
Made In {{countryOfOrigin}}