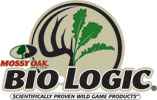 Sudden Impact is a new perennial blend that carries the name of the biggest whitetail buck ever that grew a set of antlers that scored over 490 inches! Wilderness Whitetails of central Wisconsin, the owners of Sudden Impact, have always believed in BioLogic and had planted Clover Plus since the blend came on the market. Now, in memory of the biggest whitetail ever, this new perennial blend combines the buck's favorite cultivars. Throughout much of the Midwest, land managers have to deal with sandy soils and conditions where clovers go dormant during the hot, dry mid-summer conditions. Sudden Impact takes the proven New Zealand clovers found in Clover Plus, and adds alfalfa, Birdsfoot trefoil and a bit more chicory to create a blend that does better in well drained soils and continues to produce tons of forage even through the summer stress months when clovers aren't as productive. Sudden Impact is both, great attraction and a dependable nutrition source for your herd. This unique blend of perennials is truly different from any other blend marketed in the United States. The combination of the red and white clover, chicory, alfalfa and Birdsfoot trefoil cultivars were chosen for their durability, timing of quality forage production and their ability to do well in marginal soils. The alfalfa and chicory provides exceptional growth and nutrient availability during drought and stress periods when clovers are not as productive. 4.5 lb bag will seed 1/2 acre.
Technical Information:
Seed Content: Dwarf Essex Rape, Alsike Clover, Hobson Rape, Samson Turnip, Purple Top Turnip
Canadian Planting Zone: N/A
North Planting Zone: Spring
Transitional Planting Zone: Spring-Late
South Planting Zone: Fall
Seeding Rate:9 lbs per acre
Planting Depth: 1/4 Inch or less
Fertilizer Recommendations: 0-20-20 fertilizer at 300-400 lbs per acre
For more information on planting, click the link below
Planting Guide


Note: Products over 10 lbs will ship separately from manufacture in 1-2 days and can be expected to arrive in 7-10 business days. Shipping is included in the cost.
Made In {{countryOfOrigin}}