Product Overview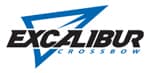 Excalibur crossbow bolts are constructed from the highest quality materials available to produce the fastest and most accurate crossbow bolts possible. Made from series 22 carbon and come fletched with 4" vanes for superior accuracy.

Note: Arrow nock color and fletching color on arrows is selected at the factory. All arrows within a single pack will be the same fletching and nock color combination. Depending on production runs colors may vary. Excalibur FireBolts do not require the use of a nock and are ready to use as they are supplied, with the flat ends.
Made In
Was this information helpful?