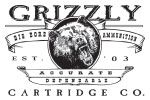 Grizzly Cartridge Company was founded in 2003 with an inherent focus on quality and innovation. Each step of the manufacturing process undergoes strict personal inspection by the company's founder to ensure the absolute best product possible.

This ammunition is loaded with a Hawk Bonded Core Flat Point bullet. The copper jacket is bonded to the lead core to ensure deep penetration into even the toughest big game animals while producing controlled expansion to deliver excellent terminal performance. All Grizzly Handgun ammunition is loaded with flash-suppressed powder. New production, non-corrosive in reloadable brass cases.

Ammunition designated +P should be used only in firearms of modern design and recent manufactures, such as Ruger single-action revolvers, Freedom Arms single-action revolvers, Marlin lever-action rifles and Ruger #1 rifles. Do not use +P ammunition in firearms that are replicas of early designs, such as rolling blocks, Sharps and Colt-style single action army revolvers. This ammunition is new production, non-corrosive, in boxer-primed, reloadable brass cases.
Made In {{countryOfOrigin}}