Product Overview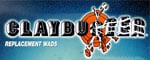 Intended as an economical wad replacement for name brand wads, Claybuster wads are ideal for target and wing shooters. Made with 100% prime resin for consistency with every loaded shell. The CB0178-12 wad was designed for use in 7/8 oz to 1 oz trap, skeet, or sporting clays loads.

Wads are essential for shotshell reloading. They fill extra space in the hull to make sure there is no room for the shot and powder to move around. They also act as a barrier between the powder and shot charges to ensure proper powder ignition, protect the shot from hot gasses and seal gasses behind the shot so that it can be propelled down the barrel. The wad also acts as a dual barrier to protect the barrel from becoming damaged by hard shot and to protect soft shot from becoming deformed by contact with hard barrel steel.
Made In
Was this information helpful?