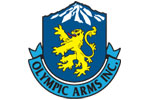 Upper receiver comes completely stripped. Forged from 7075 aluminum that has been T6 heat treated and hard coat anodized (Mil-A-8625A). The A3 features a flattop design with an integral Picatinny-style rail and no sights. Does not include forward assist or dust cover.

Technical Information

Notes:

This product contains just the receiver

Aluminum receiver
AR-15 Hammer and Trigger Pin Dimensions:

Some Colt® AR type rifles have been manufactured with hammer and trigger pins and holes which are approximately .176" in diameter. These are referrend to as "large pin" Colts. This was done to eliminate the chances of someone putting M16 fire control parts into an AR receiver. This is not found in all Colt models, just some.

All other AR type rifle manufacturers have stayed with the .156" diameter hammer and trigger pins and holes, or "small pin" which is the same spec used in all military M16 rifles.

Measure your pins or the holes in your lower receiver to determine if you have a "small" or "large" hole Colt&reg AR


Made In {{countryOfOrigin}}