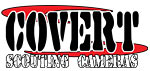 Features
Invisible "black" flash technology
Wireless transmission of your images to your email or cell phone
Adjustable sensitivity
Time lapse mode
Password protection capabilities
Scout your deer herd without letting them know you are there. The Code Black Special Ops from DLC Covert allows you to transmit images to your email or cell phone, without ever leaving the house. This keeps your scent out of your "hot spots," allowing the area to be prime for that day when the conditions are just right for a successful hunt. Users must first verify they have adequate cell service in the area they plan to use this service. The 3G technology with the Code Black will get better signal and make for improved picture delivery as well as better battery life than previous models. The Code Black camera also offers date, time, temperature, and moon phase image stamping, allowing you to analyze deer movement in a variety of conditions. The 60 invisible LEDs also ensures that the flash from your camera will not spook your wildlife. Crisp 12 megapixel images will ensure you can see exactly what is roaming through your property.
Note:
The Code Black Spec Ops is designed to send the photos is takes via MMS SIM card technology over the cellular network to any phone or email address instantly once the photo is taken. You will have to purchase a texting package from an AT&T corporate store to get set up to do this
Energizer Ultimate Lithium Batteries carry too much voltage & amps and as a result are overloading the MMS feature on the CODE BLACK cameras. If your camera is saying NO SIM or PARAMETER ERROR this could be the problem.
Technical Information
Resolution:12 MP
Trigger Speed: 1.1 second
IR or Incandescent: Black flash IR
Flash Range: Up to 60'
Video: Yes, 5-60 seconds
Audio on Video: No
Memory Card Type: SD, SDHC*
Memory Card Size: Will accept up to 32 GB Card
Memory Card Included: No
Multi-shot: Yes, up to 3 shots
Programming Method: LCD Menu
Viewing Screen: Yes; 2" color viewer
Battery Type: 12 AA batteries
Batteries Included: No
Photo Stamping: Time & Date, Moon Phase, Temperature
Time Lapse Mode: Yes
External Display: No
Camera Dimensions: 5.6" x 4.75" x 3"
Made In {{countryOfOrigin}}