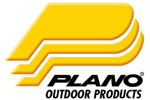 Features:

Stores up to 24 arrows

Removable dividers

Fits in front arrow pocket on most soft bow cases

Integrated broadhead tool

Includes broadhead box and an accessory box

Keep your arrows and archery gear safe, secure and organized with the lockable Plano Compact Arrow Case. This durable arrow case is constructed of a rigid injection molded polymer and features a 2-clamp closure system. The Compact Arrow Case will hold up to 24 of your favorite arrows and also has 2 removable dividers, allowing you to keep other accessories, such as bow releases, Allen key sets, etc. The Compact Arrow Case features an integrated broadhead tool to keep you safe while attaching and detaching broadheads from your arrows. The included broadhead box is specially designed to hold broadheads securely without damaging the cutting edges. The additional accessory box allows you to keep plenty of lighted nocks and other gear organized, for easy access. The Compact Arrow Case measures 36.38" x 7.5" x 3.19" and fits in the arrow pocket of most soft-sided bow cases.
Made In {{countryOfOrigin}}