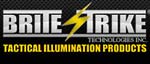 The Brite Strike Remote Pressure Switches are designed to integrate the finest hand held tactical light onto a tactical carbine or patrol shotgun. Weapon mounted lights are no longer only used by SWAT and Special Operations units. Any operator or officer who routinely carries a long gun as part of their equipment can now have a state of the art illumination tool on their long gun.

The Brite Strike Remote Pressure Switch replaces the tail cap on Tactical Blue Dot model lights. Brite-Strike recommends the use of a quality mount designed to fit a 0.83 inch diameter light body.

The RS-SSCW-03 is designed to work with a pump shotgun or other weapon with a reciprocating action. The coiled wire design permits the fore end mounted switch to stretch to accommodate the rearward travel of the fore end without excessive slack in the wire. This model will also work well for the operator who desires to move the light and switch between weapons.
Made In {{countryOfOrigin}}