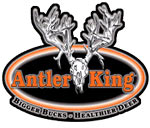 Features:
An irresistible deer attractant
Designed to attract deer in fall and winter
21% protein and 9% fat
Can be added to feed to increase consumption, attraction and nutritional value
Antler King APPLE BURST ATTRACTANT is an irresistible deer attractant offering an intense burst of apple aroma from the moment you tear open the bag! This irresistible attractant will allow you to simply "pour out and get ready to hunt", as deer will be attracted to the smell and taste. Not only will this attract deer but the 21% protein powder will offer the nutrients necessary to maximize antler growth and body development. Research shows that a minimum of 16% protein diet is required for maximum antler and body development. Pour directly on the ground in 2-3 inch strips or in small piles in your hunting area or in front of your game cameras.
Made In {{countryOfOrigin}}