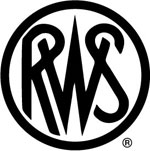 The RWS 34 Meisterschütze Pro (Master Shooter, pronounced "my-stir-shoots") is built from the same reliable RWS air gun as the Model 34 rifle. It operates from the same proven break barrel system but is professionally finished with a straight hardwood stock made for both right- and left-hand shooters. The 34 Meisterschütze Pro Compact also has an ambidextrous automatic safety, rifled barrel and two-stage adjustable trigger. This RWS 34 is time-proven power with a sleek design. The 34 Pro's receiver and barrel have a matte black finish that provides a rich look. At the front of this 34 Pro rifle is a large muzzlebrake that adds heft and a gripping point for cocking the spring piston. To top off this German made air rifle is an included airgun scope and 1-piece mount. This air rifle scope is a 3-9x 40mm air gun scope with an adjustable objective. Whether you already own an RWS or this will be your first, you won't be disappointed in the fine German rifle craftsmanship and sleek look.
Technical Information:
Caliber: 177 Cal
Weight: 7.75 lbs
Overall Length: 42.25"
Barrel Length: 15.75"
Ammunition: Pellet
Magazine Capacity: Single Shot
Cocking Effort: 29 lbs
Trigger Pull: 3.33 lbs
Trigger Type: Two-stage adjustable
Safety: Automatic
Max Muzzle Velocity: 1000 fps
Action: Break Barrel
Power Source: Spring Piston
Barrel: Rifled
Scope: 3-9x40mm
Stock: Ambidextrous
Front Sight: None
Rear Sight: None
Note: Some break barrel action guns may be harder to break then others. It may take added force to break open the barrel for the first couple uses, after several uses, it will become easier. It is recommended to break it open, however not fully cock the gun, 10 times to loosen the barrel and make it easier for future use.