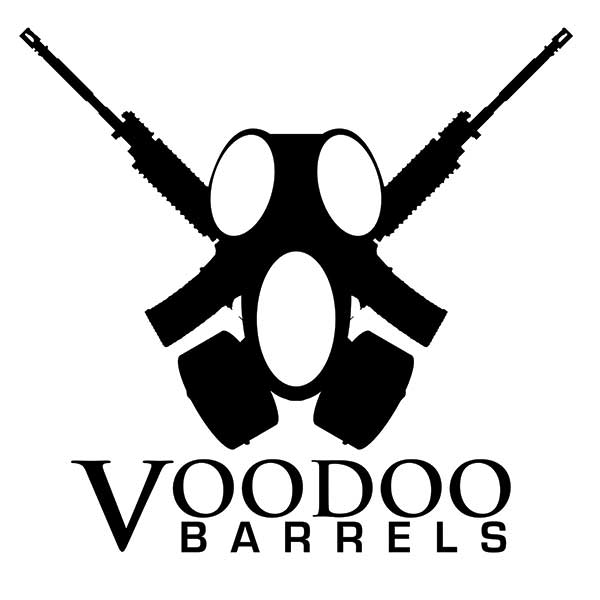 This Voodoo Barrels AR-15 Barrel comes chambered in 5.45x39mm, and is perfect for use in a dedicated upper or rifle build because it allows shooters to take advantage of the plentiful and relatively inexpensive supplies of foreign military surplus 5.45mm ammunition that are currently available. Its features include an M4 contour complete with M203 cut, a 1 in 8" twist, carbine length gas port, pre-installed barrel extension with M4 feed ramps, and a 1/2"-28 threaded muzzle for the installation of a flash hider, muzzle brake or sound suppressor.
This 16" AR-15 barrel is constructed from Mil-Spec 4150 Chrome Moly Vanadium Steel, and has been finished inside and out with Voodoo Barrels' proprietary QPQ Melonite treatment that bonds with the metal on a molecular level. Also referred to as salt bath nitriding, this treatment produces an extremely hard, slick surface on steel that resists carbon adhesion and increases corrosion resistance, extending a barrel's service life by reducing the friction produced inside the bore upon firing for a net decrease in bore surface wear over time. Nitriding converts the barrel steel's surface without any build-up, retaining all of the benefits of traditional chrome lining without suffering the accuracy degradation commonly encountered due to uneven application of chrome inside the barrel's bore. The end result is a barrel that's capable of producing accuracy on par with a match stainless steel tube, while also exhibiting the longevity and resilience of a chrome lined, mil-spec barrel. The protective QPQ Melonite barrel finish is so corrosion resistant that it is not adversely affected by prolonged exposure to the corrosive primer residue often left behind after firing imported military surplus 5.45x39mm ammunition. While prompt cleaning of all steel parts after shooting corrosive ammunition is still recommended, it is not necessary if those parts are protected with a Melonite finish.
Specifications:
Length: 16"
Material: 4150 Chrome Moly Vanadium Steel
Contour: M4
Chamber: 5.45x39mm
Twist Rate: 1 in 8"
Chrome Lined: No
Finish: QPQ Melonite / Black Nitride
M4 Feed Ramps: Yes
Muzzle Thread Pattern: 1/2"-28
Gas Port Location: Carbine Length
Exterior Diameter at Gas Port: 0.750"
Made In {{countryOfOrigin}}