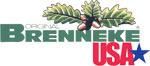 Brenneke slug ammunition is produced with high quality materials and as undergoes strict quality control to ensure their customers receive ammunition in excellent condition.

"Shotgun sabots with a punch!"

A tremendous slug for deer-sized game, The K.O. Sabot Slug expands up to .9" In testing, this slug creates a 5-shot group under 1-1/2" at 50 yards. It's also safe to use with rifles or smoothbore shotguns.

Technical Information
Gauge/Bore: 12
Shell Length: 2-3/4"
Slug Type: Sabot
Slug Weight: 1 oz
Ballistics Information:
Muzzle Velocity: 1509 fps
Muzzle Energy: 2184 ft. lbs

In order to have a safe shoot, Brenneke recommends the following Safety Tips:
Only use Brenneke slugs in modern shotguns known to be in good condition.
Make sure you use the proper length cartridge (2 3/4 inch or 3 inch) your gun is designed for.
Make certain you know if you are shooting a rifled or smoothbore barrel, and using the proper slug. Check with the gun's manufacturer if necessary.
When using a screw-in choke, make sure it is tightened securely. Brenneke recommends chokes no tighter than cylinder bore or improved cylinder when shooting their slugs.
Maximum range of a slug is up to 2000 yards! Be certain of what's behind your target.

Made In {{countryOfOrigin}}