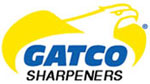 The Gatco Tri-Sep Serrated and Plain Edge Sharpener is the must-have sharpener for military personnel, backpackers, do-it-yourselfers, mechanics and sportsmen. Originally designed to be used by the armed forces for maintaining blades in field conditions.
The triangular-shaped, portable ceramic sharpener has an angle guide built in to the rubber end caps, allowing users to quickly restore a razor sharp edge to serrated edges, plain edges, entrenching tools, scissors, darts, fish hooks, ice picks and other pointed instruments.
The unique triangular design features two radius sizes and provides sharpening for both large and small serrations. Includes military-spec bead chain and clasp.
Technical Information:
Made from premium grade 96% alumina ceramic
Overall length: 4.50" (115 mm)
Sharpens all plain and serrated blades
Includes military-spec bead chain and clasp
Made In {{countryOfOrigin}}