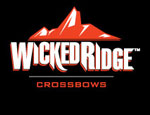 Speed: 285 fps
Power Touch 3-1/2 lb trigger
3x Mulit-Line Scope
The Wicked Ridge series of crossbows by TenPoint are high quality, fast, and super accurate crossbows designed to meet the needs of any crossbow hunter. The Warrior features a lighter draw weight and provides a cost effective to its alternative brother the Invader without sacrificing quality or features. The Power Touch trigger on this bow yields a smooth 3.5 lb trigger pull and the Dry Fire Inhibitor virtually eliminates the possibility of dry firing your crossbow. Made to accept the Acu-52 draw system, this lightweight stock features a safety engineered fore-grip and a cored semi-skeletal stock design for rugged durability and superior accuracy. Couple these features with a fully CNC-machined aluminum riser and the Alpha-A Quad Limb System and you have one of the most rugged and dependable crossbows available. The Warrior Kit includes the Ridge-Dot 40mm multi-dot scope and a 6-arrow quiver. Crossbow bolts are not included with this crossbow package.
Features
Power Touch 3-1/2 lb trigger
Acura-Angle Technology promotes accurate cocking for pinpoint accuracy
Dry Fire Inhibitor
CNC Machined Riser
Technical Information
Speed: 285 fps
Kinetic Energy: 76 ft-lbs
Draw Weight: 165 lb
Power Stroke: 13"
Overall Length: 38"
Axle to Axle Width: 26"
Weight: 8 lbs
Sights: Ridge-Dot Red Dot Sight
Bolt Length: 20"
Package Contents
Ridge-Dot Red Dot Sight
6-arrow quiver
Made In {{countryOfOrigin}}