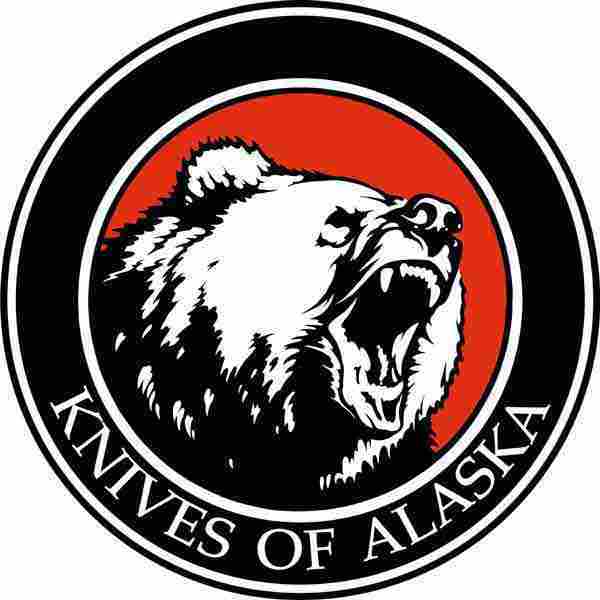 The legendary Knives of Alaska have been field proven in the most extreme and abusive hunting conditions, and passed with flying colors. Designed by professional guide Charles Allen, Knives of Alaska are expertly designed and feature the ruggedness and durability you need to handle all your hunting and skinning tasks. Holding a Knives of Alaska knife in hand reveals the quality and craftsmanship that professional guides and hunters across the world have come to trust.
If you are looking for the ultimate big game field dressing, camping, or survival kit, Knives of Alaska has you covered. The Knives of Alaska Hunter's Pro-Pack is perfect for the serious outdoorsman. The Pro-Pack includes the Hunter's Hatchet, Bush Camp Knife, Cub Bear, and Muskrat, all wrapped in a handy nylon carry pouch.
The Bush Camp is ideally suited for skinning, quartering, boning, camp chores, and survival. The 6" Drop Point blade is extremely versatile and well balanced. The D2 Tool Steel blade is Double Drawn Heat Tempered for maximum edge retention. The knife comes hand sharpened from the factory with a special convex edge, that remains sharp through many uses. The SureGrip handle is well designed and extremely comfortable, preventing hand fatigue, and provides a secure grip in any conditions.
The Hunter's Hatchet is still one of the most basic and timeless tools for a true outdoorsman. The American-made high-carbon S-7 Tool Steel blade is a shock-resistant, highly impact resistant, and extremely durable steel. The classic hand-rubbed, oil-finished American red hickory handle give the hatchet a traditional look, but it is also durable enough to withstand years of use.
The Muskrat is an unusually shaped knife that is unbelievably effective for skinning and fleshing. The razor sharp edge extends completely around the rounded point and along the top side of the blade for one inch. This allows you to skin very quickly with the knife by cutting in both directions with a quick flick of the wrist. The rounded point is also much less likely to accidentally cut through the skin of a valuable cape than a very sharp pointed blade. Professional outfitters, guides, and hunters have depended upon this knife for years preparing the skin and cape for tanning or mounting their trophies. The thin .080" thick blade is D-2 tool steel and holds an incredible edge and wears very well.
The Cub Bear is perfectly designed for caping your next trophy. The high quality D2 Tool Steel, Double Drawn Heat Tempered blade, holds an edge extremely well. The slim handle and finger choils are designed to give you full control over the fine Clip Point blade, making tedious caping tasks easier. The blade design also works very well as "Bird and Trout" knife for field dressing birds and other small to medium sized game. The Cub Bear features a Black SureGrip handle that is comfortable and slip resistant. The Cub Bear is the knife professional hunters and taxidermist have been using for years for their caping needs.
Technical Information
Folding or Fixed Blade: Fixed
Blade Steel: D2 Tool Steel - Bush Camp, Cub Bear Muskrat; S-7 Tool Steel
Handle Material: Black SureGrip
Blade Shape: Bush Camp - Drop Point; Cub Bear - Clip Point; Muskrat - Fleshing
Serrated: No
Carry Options: Nylon Pouch
Blade Finish: Bead Blasted
Rockwell Hardness: 59-61
Blade length: Bush Camp 6", Cub Bear 2.75", Muskrat 2.75", Hatchet 4.25"
Blade Thickness:
Overall Length: Bush Camp 10.5", Cub Bear 6.5", Muskrat 6.5", Hatchet 11"
Weight:
Made in USA!
Made In {{countryOfOrigin}}