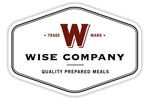 The Wise Food Freeze Dried meals are ideal for camping, hiking, or keeping in your Bug Out Bag. The extra strength Mylar Foil pouch allows users to simply pour hot water into the bag and wait. In about 12 minutes users will be treated to a tasty and nutritious meal. Product weight of only 5 ounces per pouch means you can carry plenty of food without adding too much weight to your pack.

Wise foods are an excellent option for those wishing to be prepared to provide for themselves or their families in times of an emergency. All Wise Food Outdoor Meals now contain REAL MEAT and have increased calorie content ranging from 500 to 780 per pouch. Additionally, the protein per pouch has increased to as high as 34 grams. The Wise Food Company's dedication to quality ensures a safe, nutritious product that will be there when you need it.
The 7-Day Ultimate Emergency Kit contains several entree meal pouches to get you through that week. Also included is breakfast and drink pouches. These pouches just need water and will be ready in 12 to 15 minutes. This kit will provide over 2,000 calories per day for 1 person for 7 days and over 100 grams of protein per day. This kit has a shelf life of up to 25 years.
Kit Includes:
Lasagna with Meat (4 Servings)
Teriyaki Chicken and Rice (4 Servings)
Creamy Chicken w/ Vegetables & Pasta (6 Servings)
Chili Mac with Beef (6 Servings)
Noodles & Beef in Savory Mushroom Sauce (4 Servings)
Pasta Alfredo with Chicken ( 4 Servings)
Apple Cinnamon Cereal (6 Servings)
Crunchy Granola (8 Servings)
Orange Delight Drink Mix (16 Servings)
Technical Information:
Total Weight: 9 lb
Dimensions: 15" (H) x 12" (W) x 10" (D)
Shelf Life: 7 years
Made In {{countryOfOrigin}}