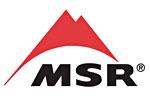 Features
Unmatched Wind Protection: Radiant burner head is enclosed by heat exchanger for maximum protection in even the windiest conditions
Unrivaled Boil Time: Out-performs the competition in lab tests-boiling a liter of water in just 3 minutes-with a far greater advantage in windy conditions
Maximum Efficiency: Patent-pending radiant burner and heat exchanger make the Reactor the most efficient all-condition stove system, so you carry less fuel
Integrated System: State-of-the-art stove and high-efficiency pot are combined into one compact, easy-to-use system
Water boiler per 1 oz of fuel: 2.8 liters
Not only is the Reactor Stove System the fastest and most fuel efficient stove ever made, it's the only one that delivers that level of performance in the cold and wind of the real world. Simply put, you'll burn less fuel, carry less fuel, and move faster than with any other stove available. And with MSR's proven quality and durability, you can be assured of that performance to pull you through when you need it most. The Reactor stove's radiant burner is enclosed by a unique heat exchanger for unmatched performance in windy conditions while an advanced pressure regulator provides optimal heat output over the life of a fuel canister. Stove and fuel stow inside of the high-efficiency 1.7-liter pot that's great for everything from solo trips to cooking for groups of up to three people. A collapsible handle locks the unique see-thru lid in place for safe and easy transport.
Package Includes:
Reactor Pot and Stove
BPA-Free Strainer Lid
PackTowl Pot Protector
Folding/locking handle
Fuel bottle not included.
Made In {{countryOfOrigin}}