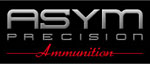 Since 2001, Stan Chen has crafted some of the finest custom 1911 pistols in the world. He has built a solid reputation in the industry of innovation, skillful craftsmanship, and meticulous attention to detail. In 2010, Stan Chen took that attention to detail and drive for excellence into the manufacture of precision, match grade ammunition for tactical, defensive and competition purposes. Knowledge of precision weapon dynamics as a custom gun builder gives ASYM Precision unique insight into the specs and requirements of ammunition in high performance weapon platforms.
Using the finest components in the industry, ASYM Precision Ammunition was developed for shooters, by shooters. During quality control, each piece of loaded ammunition is hand inspected and chamber checked to ensure you're getting high quality rounds in each and every box. Competitive shooters, military and law enforcement personnel as well as hunters, can trust ASYM to perform consistently and accurately in every shooting situation.

From Stan Chen: The ASYM Solid Defense X (SDX) line of ammunition offers a no-nonsense round with solid copper, solid penetration and solid expansion. This load features the solid copper 55 gr. Barnes TSX bullet. This bullet offers tremendous performance against barriers such as auto glass and sheet metal. As it is solid in construction, there is no jacket to separate from its core, as with traditional bullets. The bullet stays intact after passing through intermediate barriers. It also performs particularly well in shorter barreled carbines, because it is designed to expand, not fragment.

Smith & Wesson Team Captain Julie Golob on ASYM Precision Ammunition:
"I have been using ASYM ammunition for a couple of years now. When titles are on the line, I need the very best. The confidence boost of knowing that I am going into national and world championships with ammo that is not only going to function flawlessly, but is also extremely accurate is huge. I know that when I make my best shots, ASYM will deliver. Whether I am competing or out in the field hunting, I rely on ASYM accuracy and reliability."
Made In {{countryOfOrigin}}