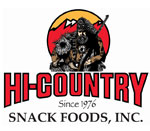 Many hunting enthusiasts maintain a good supply of steaks, roasts, fowl and stew meats in the freezer to be used throughout the year. Hi-Country is happy to expand its user friendly seasonings line to complement these meats to bring variety to their kitchen.

Hi-Country's meat marinades were created to impart unique flavors while tenderizing meat. They also function to bind natural juices. Thickness, surface area and type of meat determine how much flavor and how much tenderizing a marinade will provide. Along with meat prep instructions, Hi-Country provides information on how to increase the flavor potential by mixing marinades with oils, or the tenderizing functionality by adding juices, wine, or flavored vinegars.

Hi-Country Marinades contain appropriate seasonings, but also contain oil and acidic components to create the functionality of a flavor enhancer and a tenderizer. Dry marinades may also be used as a rub for flavor also.

Each box contains two 2 oz. packets, enough to flavor 6 lbs. of meat total.
Made In {{countryOfOrigin}}