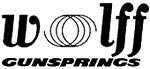 Includes 20 heavy duty springs. There are 10 different designs with two springs of each design supplied. The springs are designed to function in 3/32" to 1/4" diameters and vary in length from 2" to 4". For use with general purpose repairs. Fitting is required.

Technical Information

Material: Steel

Finish:

Features:

Gunsmithing Required: Depends on specific application

Notes:

Contains total of 20 heavy-duty metric springs, two each of 10 different spring designs.

Springs are manufactured to metric standards, designed to function in 2.5mm to 7mm inside diameters and vary from 50mm to 100mm in overall length.