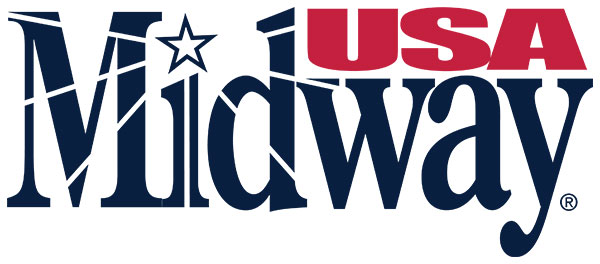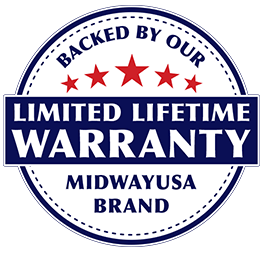 The MidwayUSA Pro Series Range Bag is modeled after the highly popular Competition Range Bag and utilizes the same heavy-duty zippers, black chrome plated steel D-rings and high-denier count, abrasion resistant nylon, but features a host of innovative improvements as well!
The Pro Series Range Bag features a tough polymer shell on the bottom of the bag which conveniently doubles as a storage area (ideal for ammunition); simply pull both heavy-duty zippers back and around to push the bag onto its side to gain access. The Pro Series Range Bag still has the same dual-zippered lid as the original; however, it now sports elastic shock cord on top for temporarily stowing soft goods such as towels, hats, or rolled-up jackets. Also, Pro Series Range Bags come standard with a tethered rain-fly. The large external pocket features three rows of MOLLE webbing on the exterior of the pocket, which allows users to integrate a variety of different pouches to increase the bag's overall storage capacity. Additionally, two rows of MOLLE webbing are sewn to inside the pocket and are perfectly placed for attaching pistol magazine pouches. Open-top internal pockets along either side allow you to carry additional pistols. Two large external pockets on the opposite side of the bag feature removable AR-15/M-16 magazine organizers that attach via hook-&-loop fastener strips and allow for carrying six AR-15/M-16 magazines in each pocket.
The Pro Series Range Bag also features a removable stage bag for those times when you don't need the storage of the full range bag. The stage bag features two zippered pistol pockets with padding on both sides to protect your pistols, and the bag itself features two removable and adjustable dividers allowing you to customize the available storage space. There are three sewn-in pistol magazine pouches on either end of the stage bag. If you're looking for a professional-grade range bag without the professional price tag, the MidwayUSA Pro Series Range Bag is an obvious best choice!
Technical Information:
MidwayUSA Pro Series Range Bag
Main Bag Data
Overall Dimensions: 24" (L) x 11.5" (W) x 9.5" (H)
Main Compartment: 17" (L) x 11" (W) x 8" (H)
Main Compartment Pistol Pocket (2x): 17" (L) x 7" (H) x 2" (W)
Polymer Shell Compartment: 17" (L) x 11" (W) x 2" (H)
MOLLE Pocket: 16" (L) x 2.5" (W) x 8" (H)
Front Pockets (2x): 7.5" (L) x 2" (W) x 7" (H) - features embroidered MidwayUSA Logo.
Right Side Compartment: 9" (L) x 8" (H) x 2" (W) - external ID holder
Left Side Compartments: 5" (L) x 2.5" (W) x 8" (H) - houses rain fly
7 Total pockets
12 Total rifle magazines can be stored in each large exterior pocket with included (removable) organizer
Heavy Duty Sling: 2" (W) x 54" (L) - removable with extra padded center and chrome plated steel reinforced clasps
2 Black Chrome plated steel D-rings for quick attachment of the sling
Reinforced, full wrap-around nylon carrying handles
All major seams double stitched for added strength
Loop hook-&-loop fastener strip for attaching name tape
External ID Pocket
Removable Stage Bag Data:
Overall Dimensions: 15.5" (L) x 5.5" (W) x 8" (H)
Main Compartment: 15" (L) x 5" (W) x 7" (H)
Pistol Pocket (2x): 14" (L) x 2" (W) x 7" (H)
Reinforced, full wrap-around nylon carrying handles
Two removable compartmental dividers included (attach and detach via hook-&-loop fastener strips sewn on the inside of the bag)
6 Built-in pistol magazine holders included (3 located internally at each end of the bag)
2 Black Chrome plated steel D-rings for quick attachment of the sling
All major seams double stitched for added strength
ALL PROVIDED MEASUREMENTS ARE APPROXIMATIONS


Made In {{countryOfOrigin}}