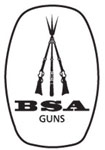 The all-time classic pellet, time-proven and designed for all-round use. Ideal for spring-piston and precharged pneumatic airguns alike, this pellet can handle anything from informal plinking sessions to the demands of full-on hunting action. Versatile, affordable and totally reliable, this pellet demands its place in your airgun armory.
Technical Information:
Caliber: 177 Cal
Weight: 7.87 Grains
Quantity: 500
Style: Roundhead
Material: Lead
Notes: Warning! Lead airgun ammunition contains a chemical known to the state of California to cause cancer and birth defects (or other reproductive harm). Do not inhale dust or put pellets in mouth. Wash hands after handling.
Made In {{countryOfOrigin}}