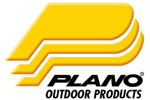 Features:

High-density foam padding

Outer zip pocket

Heavy duty handles and zippers

The Plano Bow Guard Soft Bow Case is a no frills, value priced bow case that provides extreme protection. This durable bow case is constructed of a tough polyester fabric and features heavy duty handles and zippers. The high-density foam will keep you bow safe from moderate shock and the soft-side construction makes transport of this case much easier than its hard-sided cousin. The external zip pocket allows you to carry extra releases and other gear.

Technical Information:

Length- 44"

Width- 0.5"

Height- 22.5"

Number of pockets- 1

Arrow Pocket- No

Shoulder Carry Strap- No

Padded- Yes