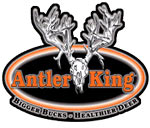 Features:
Contains high protein forage and grain soybeans, high protein forage peas, succulent buckwheat and sunflowers.
High protein food plot in spring and summer.
High energy food plot for fall and winter.
Can be planted May thru August in the northern U.S. and March thru September in the southern U.S.
When planting in the fall plant at least 60 days before the first expected frost.
Best planted with a drill, but if a drill is not available, broadcast the seeds and then drag them into the soil.
All serious whitetail hunters are looking for ways to increase their chances of scoring on a trophy buck. Antler King's RED ZONE Food Plot seed is designed to do just that! RED ZONE is comprised of 2 varieties of forage and grain soybeans, a variety of forage peas, a variety of buckwheat and more! RED ZONE will mature at different periods throughout the year, offering a food plot the deer will crave during the spring, summer, fall and winter. If you can only plant one food plot this year, you need to plant RED ZONE
Technical Information:
Seed Content: Forage and grain soybeans, forage peas, buckwheat, sunflowers
Canadian Planting Zone: Not listed by manufacturer
North Planting Zone: May through August
Transitional Planting Zone: Not listed by manufacturer
South Planting Zone: March through September
Seeding Rate: 20 lb. bag plants 1/2 acre
Planting Depth: Drill recommended (if drill not available, broadcast seeds and then drag them into soil)
Fertilizer Recommendations: Not listed by manufacturer
Made In {{countryOfOrigin}}