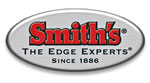 The Smith's Ceramic Edge Pro Electric Knife Sharpener is the first electric knife sharpener that features Smith's patented interlocking wheel technology in a Ceramic abrasive material. The ceramic sharpening wheels deliver a fast, precise sharpening of both sides of the knife blade equally. The ceramic sharpening wheels also eliminate the possibility of damaging your blade, shorten sharpening time, remove less metal from the blade, and will not leave a burr on the cutting edge. The sharpness and quality of the cutting edge of the ceramic wheels is superior to any diamond-coated wheel sharpener.

The Edge Pro also features two manual pull-though sharpening slots designed to set the initial edge of the blade before running through the electric sharpener, and give the sharpener more versatility. The manual sharpener can be used for serrated knives or touching up an already sharp blade.

Technical Information:

Notes:

Works on alloys, carbon, and stainless steel.
Works on all hunting knives, tactical knives, custom knives, fishing knives, kitchen knives, and pocket knives
Will NOT work on ceramic knives, Asian style kitchen knives, or knives with a grind on one side

Features:

Flat grind edge
45 degree sharpening angle (22.5 degrees on each side of the blade)
Preset Sharpening angle for perfect results every time
Non-slip rubber feet
Rubber hand grip
Clean out slot
Made In {{countryOfOrigin}}